Ore Monogatari Live Action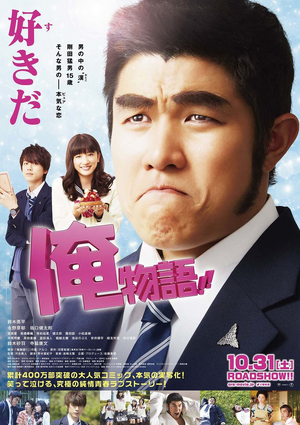 Information
Title:
俺物語!!, My Love Story!!
Original Run:
October 31, 2015
April 27, 2016 (DVD&Blu-ray)
Genre:
Comedy / Drama / Romance / Shoujo / Slice of Life

Ore Monogatari!! (俺物語!!, My Love Story!!) is a live action movie, directed by Hayato Kawai and based on the manga Ore Monogatari series written by KAWAHARA Kazune and illustrated by Aruko.
Director: Hayato Kawai
Script: Akiko Nogi
Music: Iwasaki Taisei
Original Soundtrack
Edit
Release date: October 28, 2015
Composition: Iwasaki Taisei
猛男 I
猛男 II
The Strong Man
Girl Talk
大和 I
デート
Wonderland City
朝の光
Sweet thing
公園にて
猛男はつらいよ
砂川
猛男 III
火事
父の背中
猛男 IV
大和 II
猛男 V
大和 III
External links
Edit
Ad blocker interference detected!
Wikia is a free-to-use site that makes money from advertising. We have a modified experience for viewers using ad blockers

Wikia is not accessible if you've made further modifications. Remove the custom ad blocker rule(s) and the page will load as expected.